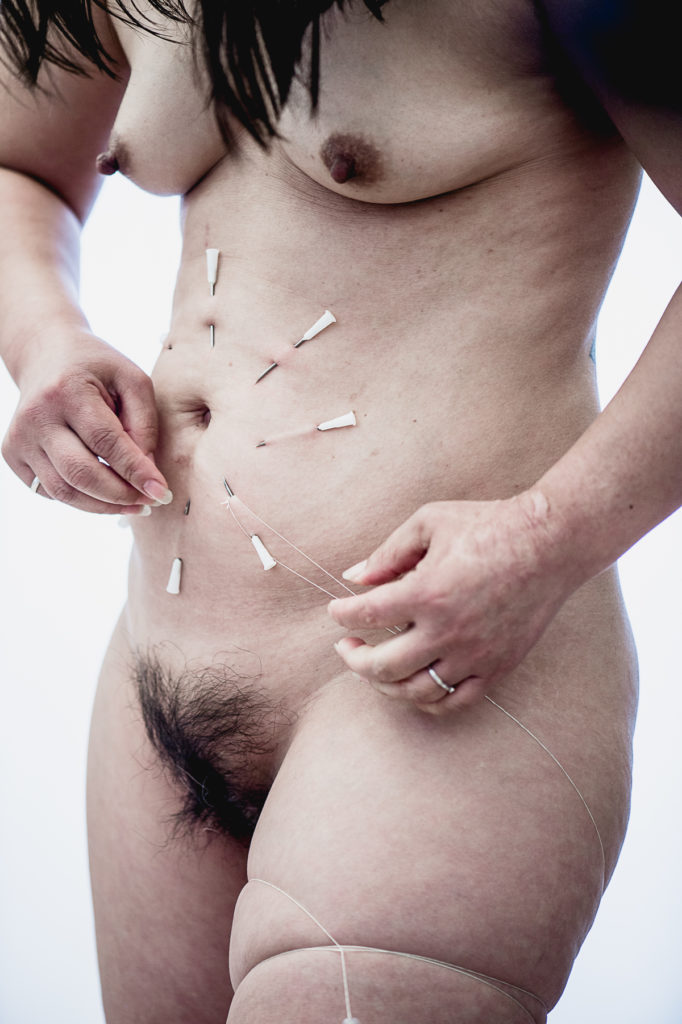 "I do not construct reality – my body is reality"
Yong Sun Gullach is a Korean-Danish artist and a human rights activist with focus on Transnational adoption as colonial practise based in Copenhagen Denmark. She operates at the boundaries of performance, poetry, film, music, noise and installation art. Her art practice investigate the Southeast and East Asian diaspora and desorientation as she unfolds the aesthetics of the expressions and narrations that are embedded in-between the body, sounds and the spoken word. 
Yong Sun Gullach investigates the essence of the loss of an understanding of a self and the strategies to overcome what is not there. The human nature's attempt to replace the self by de-and reconstructing an identity is unfold in the complex co-creation of the body and the body's surroundings. A loss of that unfolds in a many layers always changing always present.
By letting body and space unfolds it's complex dimensions the investigation of the co-creation between artist and spectator starts – traces creates an impact on the other person's memories and an understanding of the dialogue is being presented. By evoking basic feelings in the other – a portal for communication opens in her art where words, sounds and visuals exchange. This deconstructed loss of the artists self opens for an exchange constructing a new narration and thereby the performers body in the room.
Gullach's performance-investigations adds a textuality of flesh and time. The artists body in space and time bends what cannot be captured but only absorbed, in a single unique space continuum for each spectator.
Side by side is the row of performance actions presented as restistance – as empowerment.
Her works has been curated in Europe, Korea and the US.
Yong Sun Gullach,  born 1967, Seoul, Korea/Copenhagen, Denmark
Short curriculum for The Starchild Project started 2015
"To adopt a chronotype" (performative reading)

Performed at "Crossing Borders: Migration and the Visual Arts in Denmark, 1800-2021", Royal Danish Academy of Science and Letters, Copenhagen, Denmark 24th of September 2021
Published at Bastard Blog ved Mette Garfield
"Jeg optiller en far" (performance)
 Perfomed at Poesifestivallen Opbrud, Literaturhaus, Copenhagen Denmark 2021
"White face" (performance)
The Performance Art Festival Body Landscapes, Verdenskulturcentret, Copenhagen 2nd. of October 2018
"Hwarang – imprints of a poet warrior" (installation)
Exhibited at "Gotta Serve Somebody" co-created exhibition with Lise Haurum, Laila Svensgaard, Åse Eg, Tanja Nelleman Poulsen, Anne Dyhr, Rikke Hansen at www.kh7artspace.dk, Århus June 22nd – July 3rd 2017
"The Star Child " (performance)
Performance Art Festival Transistors meetings, Warehouse 9, Copenhagen 6th of October 2018
curated by Hvid[mə] Archive at Gallery |Meter|, Copenhagen 10th of June 2017
"Mistress of un-representation" (performative poetry)
Published in "The Motherland", ed. Laura Wachs, 2018
Published in Marronage #2, June 2017
performance reading with Lesley-Ann Brown part of "Country of Loss" at Hovedbiblioteket, Copenhagen, 3rd of March 2017
"Besættelse" (performative poetry)
Vernissage for EU Anti-Trafficking Day and HopeNow 10th Anniversary, 18th of October 2017
Feministisk Varieté, Teater Republiques Reaktor scene, 29th of September 2017
Part of "Country of Loss", Hovedbiblioteket, Copenhagen 3rd of March 2017
Part of Hvid[mə]Archive, 2017
published in Friktion – magasinet for køn, krop & kultur,  "Opsamling 2015-16", 2016
Friktion Magazine "Opsamling 2015-16" launch, Huset Copenhagen, 25th of November 2016
Dansk Sociologiforening, Jazzhouse Copenhagen, 26th of October 2016
"Re-enacting the Transnational Adoptee" (performance)
"Living Archives", Malmø Kunstmuesum, Malmø Sweden 11th-13th of April 2018
Part of "Decolonial Daughters: How coloniality destroys family – On art, migration, decolonization and empowerment" curated by 

Teresa Maria Diaz Nerio

, Artspace "La Casa de Barro", Amsterdam The Netherlands 17th-19th of February, 2017
Social Exclusion, Postcolonial Perspectives and Discrimination, center for Social Exclusion and Learning SEAL bi-annual seminar, University of Ålborg, Copenhagen Denmark 6th of October 2016
"Still (the) Barbarians", EVA International, 37th Biennial, curated by Koyo Kouoh, Limerick City, Irland 14th – 16th of April and 12th of July, 2016
Flabfestival, Verdenskulturcentret, Copenhagen Denmark 20th of September 2015
Novam Artem, Vision of Dome, Copenhagen Denmark 30th of July, 2015
Miami Performance International Festival, curated by Charo Oquet, Miami, USA 21st of June 2015
Hysteria Festival, SOMA Gallery, Berlin  Germany 11th of April 2015
Westgermany Artspace, Berlin Germany 10th of April 2015
 Readings and art talks
 Art talk, Crossing Boarders: Migration and the Visual Arts in Denmark, 1800-2021, Royal Danish Academy of Science and Letters, Copenhagen, Denmark 24th of September 2021
 Art talk, IPAF19, Warehouse9, Copenhagen Denmark 13th of April 2019
Panel talk, "Work, work, work", curated by Gallery |meter|, Nørrebro, 8th of December 2018
Panel talk ,"I

nternational Performance Art Festival Body Landscapes",

Nørrebro

, Denmark,

2nd of October 2018

 Panel talk, Shaking the habitual: final seminar, curated by Gallery |meter|, Warehouse 9, Vesterbro, 16th of June 2018
Panel talk, "Reproduktion, slægtsskabelse og Nekropatriarkat" at "Shaking the Habitual", Galleri |Meter|, Nørrebro, 9th of June 2018
"Stjæler", Mothertongue|Fathertongue, Den sorte Firkant, Nørrebro 6th of June 2018
Presentation at "Living Archives", Malmø Kunstmuesum, Malmø Sweden 11th-13th of April 2018
Presentation at "Archives that matters", Statens Kunstskole, 2018
Art talk at Gallery |Meter|, Copenhagen 10th of June 2017
Art Talk together with Miriam Firesewra Berhane Haile moderated by Temi Odumosu at SMK Fridays,  Copenhagen 5th of May 2017
Voice material – part of the sound mosaic at "Ufortalte Historier", Statens Museum for Kunst 18th of May 2017 – January 2018 curated by Living Archives
Social Exclusion, Postcolonial Perspectives and Discrimination, center for Social Exclusion and Learning SEAL bi-annual seminar, University of Ålborg, Copenhagen 6th of October 2016
Art Talk moderated by Koyo Kouoh at EVA International closing symposium for Ireland Biennial "Still (the) Barbarians, Belltable Arts Center, Limerick City, Ireland 13th of July, 2016
Education
"Gotta Serve Sombody", collaborative art workshop, KH7 Århus, 2017
Art Writing Masterclass "Læs Verden/Lad verden læse dig" Århus Literature Center, 2014
Diplomacy degree in Management(UH), DTU 2011
Masters Degree in Mediastudies, New School University, NYC 1999
Cand.mag in Literature, University of Copenhagen, 1997